Yoga Retreat in South of France, pampering body & soul
Categories
Non classé
0 Comments
Yoga Retreat @ Métairie Montplaisir – Carcassonne
September 13th-16th 2019
A 3 day pampering experience to re-balance body and soul in a peaceful and charming old farmhouse close to Carcassonne.
3 happy women to receive you, ease your stay and feed you!
Sirkka – your yoga teacher
Françoise – your chef
Amélie – your host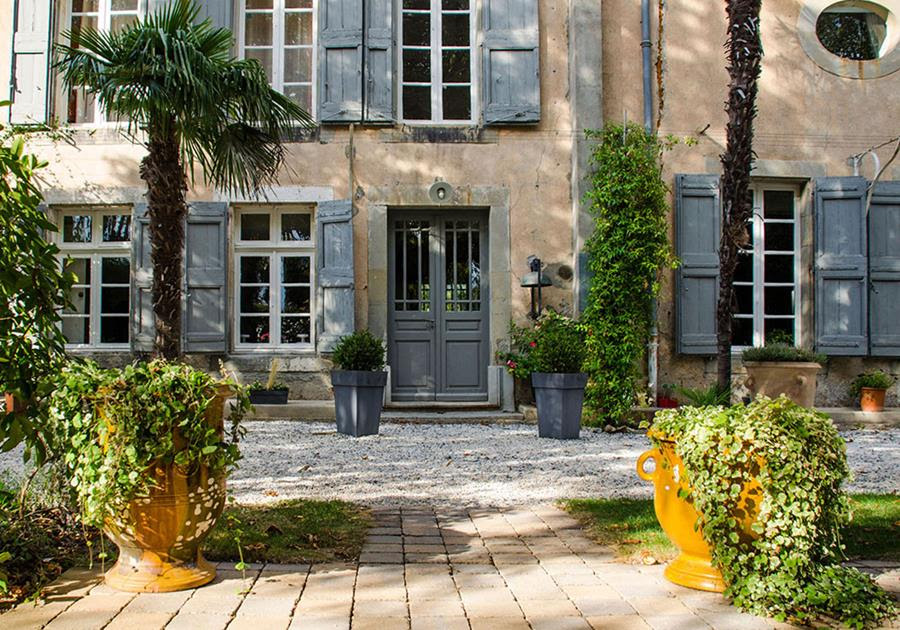 Yoga
Sirkka has practiced yoga for over 20 years. She is a trained Ashtanga yoga and Stotts Pilates teacher receiving her qualifications in 2009. She also teaches children and creates kids yoga stories in her spare time.
Yoga will be taught in the mornings and evenings. No matter whether you are a beginner or intermediate, Sirkka will give her best to suit your level. Each session is approximately 1.5 hour long. Easy to follow gentle vinyasa-flow yoga will get us energised each morning and in the evenings, we will practice a slower Yin restorative inspired Yoga to help ease ourselves into a relaxed end of the day.
Practical information and costs:
Métairie Montplaisir has 5 rooms and suites and an apartment with 2 bedrooms sharing a bathroom. We can host 12 yoga fans.
Rosalie is a thirty square metre bedroom situated on the first floor of the house, with its ensuite bathroom and toilet, http://www.metairiemontplaisir.com/en/rosalie-room/
Nandette is a 50sqm kind of apartment, reading corner, spacious bedroom with sofa and desk, independent toilets and large and light bathroom with shower. http://www.metairiemontplaisir.com/en/nandette-room/
Ségur is a 50 square metre suite with a bathroom and a bedroom built under a magnificent 4m high ceiling. A beautiful bathroom with a large stone shower and a bath to relax. http://www.metairiemontplaisir.com/en/segur-room/
Carlota is a 65 square metre suite, with a bedroom, a living room and a bathroom with toilet. A bioethanol fireplace opens on both side of the suite and allows you to enjoy a very large and bright room. http://www.metairiemontplaisir.com/en/carlota-room-suit/
Atelier is an independent loft, 70 square metre cottage on two floors: the living-room and open plan kitchen on the ground floor with bathroom and bedroom on the level above. http://www.metairiemontplaisir.com/en/the-atelier-room/
Francesca is a 2-bedroom apartment with a large unique bathroom (walk in shower) overviewing pool and garden.
All my rooms and suites have the same comfort and equipment (Nespresso machines, kettle with teas, hammam towels for the swimming pool, free wifi, occitane products for the bath), the main difference is space and decoration style.
All meals will be served at Métairie Montplaisir (special diet available upon request), breakfast on the morning after yoga session, snack in the afternoon before yoga session, and then dinner.
Yoga mats are provided at Métairie Montplaisir if you don't want to travel with yours.
Cost for 3 days stay:
Please choose from the following rooms:
Rosalie Single occupancy: 582 € • Sharing: 372 €
Nandette Single occupancy: 618 €  • Sharing: 390 €
Ségur Single occupancy: 596 € • Sharing: 402 €
CarlotaSingle occupancy: 726 €  • Sharing: 444 €
Atelier Single occupancy: 786 € • Sharing: 474 €
Francesca Single occupancy: 738 € • Sharing: 450 €
Mineral water, coffee and tea in the rooms.
Includes: Yoga session, room for 3 nights, breakfast, snacks and dinners
Does not include: Drinks and airport transfers.